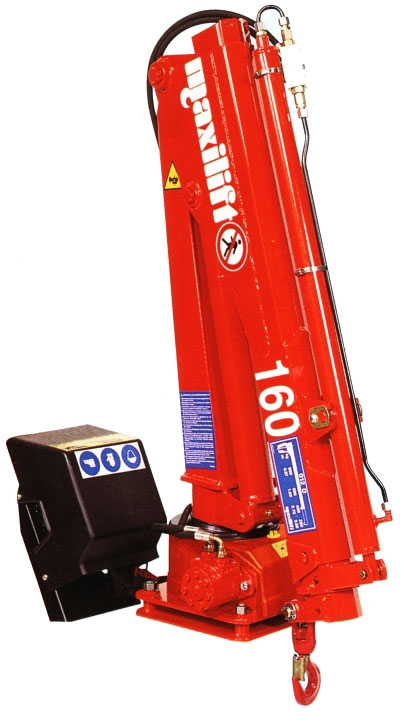 Compact Monoboom. Commonly mounted on the corner of a flat deck truck but also suitable for mounting on a trailer. It can also be equipped with a winch
MAXILIFT CRANES OFFER THE FOLLOWING FEATURES:
Maxilift's are very compact and take up very little space when stowed.
Maxilift hexagonal boom is constructed of high tensile steel giving it greater strength and less weight.
Counter balance valves on both lifting and extension cylinders ensure safe and smooth operation.
Crane structure is fabricated out of high tensile steel which makes the crane lighter and gives you a better payload.
Wide range of models enables you to have the correct crane for the application.
Four hydraulic extensions on certain models.
Cranes can be mounted closer to the load and in some cases give them greater lifting greater lifting capacity than much larger monoboom cranes.
The electrical power supply and pump is enclosed in a compact metal box with a durable PVC cover to protect it against the harsh North American elements.
H2 B3 Rating
Maxilift Cranes are manufactured to strict European standards. and carry a Din 15018-H2 B3 rating.

The H factor is a measure of the structural integrity of the crane concerning the amount the crane can lift beyond its rated capacity and the additional stress of high -speed operation on the structure H1 is rated 100% and H2 is rated at 130%.
The B Factor is a measure of the total number of cycles for which the crane is designed. Maxilift is designed for 200 000 cycles whereas a B2 crane is 63 000 cycles.
Maxilift is engineered for a working life of 15 years.
Maxilift Leads the Way with new ECI system
The New ECI overload protection indicator system that has been developed for Maxilift cranes displays the lifting capacity achieved while lifting a load. The display is a series of LED's of different colors that illuminate as capacities are achieved. This accurately indicates the load of the crane. A transducer on the main-lift cylinder measures the pressure and the ECI unit converts the signal to a reading on the display enabling the crane to be operated safely at all times as you know exactly the weight you are lifting, avoiding overload conditions.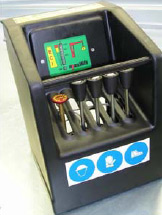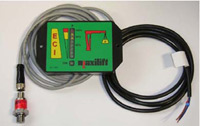 Please select the model of your choice from the list below for more information:
•M100 - 7,400 ft.lbs. Lifting Capacity
•M130 - 9,600 ft.lbs. Lifting Capacity
•M160 - 11,000 ft.lbs. Lifting Capacity
•M200 - 14,000 ft.lbs. Lifting Capacity
•M230 - 16,300 ft.lbs. Lifting Capacity
•M260 - 18,500 ft.lbs. Lifting Capacity
•M300 - 20,700 ft.lbs. Lifting Capacity
•M350 - 24,350 ft.lbs. Lifting Capacity
•M510 - 35,300 ft.lbs. Lifting Capacity

*MAXISTAB Manual AWD Hydraulic Stabilizers avail. upon request
| | | | |
| --- | --- | --- | --- |
| Legend: | | | |
| | | | |
| | Hydraulic | Manual Standard | Manual Opional |
100.1


Ft

3'2''

6'

8'10''

11'6''

lbs

2178

1210

814

550

Specifications:
Lifiting Capacity:
7,400
Crane Weight:
190-230 lbs.
Brochure:
Crane Specifications:
---
130.1


Ft

3'9''

6'10''

9'10''

12'6''

lbs

2530

1386

924

660

130.2

Ft
3'9''
6'10''
9'10''
12'6''
lbs
2530
1386
924
660
Specifications:
Lifiting Capacity:
9,600 lbs.
Crane Weight:
260-330 lbs.
Brochure:
Crane Specifications:
---
160.1


Ft

3'9''

6'10''

9'10''

12'6''

lbs

2970

1650

1100

770

160.2

Ft
3'9''
6'10''
9'10''
12'6''
lbs
2970
1650
1100
770
Specifications:
Lifiting Capacity:
11,000 lbs.
Crane Weight:
275-350 lbs.
Brochure:
Crane Specifications:
---
200.1


Ft

3'11'''

7'3''

10'6''

13'9''

17'1''

lbs

3476

1892

1276

990

660

200.2

Ft

3'11'''

7'3''

10'6''

13'9''

17'1''

lbs

3476

1892

1276

990

660

200.3

Ft

4'2''

7'5''

10'8''

13'9''

17'1''

lbs

3300

1848

1276

990

660

Specifications:
Lifiting Capacity:
14,000 lbs.
Crane Weight:
370-480 lbs.
Brochure:
Crane Specifications:
---
230.1


Ft

3'11'''

7'3''

10'6''

13'9''

17'1''

lbs

3,960

2,200

1,496

1,100

770

230.2

Ft

3'11'''

7'3''

10'6''

13'9''

17'1''

lbs

3,960

2,200

1,496

1,100

770

230.3

Ft

4'1''

7'5''

10'8''

13'9''

17'1''

lbs

3,960

2,090

1,430

1,100

770

Specifications:
Lifiting Capacity:
16,300 lbs.
Crane Weight:
410-530 lbs.
Brochure:
Crane Specifications:
---
260.1


Ft

3'11'''

7'3''

10'6''

13'9''

17'1''

lbs

3,960

2,200

1,496

1,100

770

260.2

Ft

3'11'''

7'3''

10'6''

13'9''

17'1''

lbs

3,960

2,200

1,496

1,100

770

260.3

Ft

4'1''

7'5''

10'8''

13'9''

17'1''

lbs

3,960

2,090

1,430

1,100

770

Specifications:
Lifiting Capacity:
18,500 lbs.
Crane Weight:
470-595 lbs.
Brochure:
Crane Specifications:
---
300.1


Ft

4'3''

7'7''

10'10''

14'4''

17'7''

20'10''

lbs

4730

2684

1870

1386

1100

770

300.2

Ft

4'3''

7'7''

10'10''

14'4''

17'7''

20'10''

lbs

4730

2684

1870

1386

1100

770

300.3

Ft

4'6''

7'9''

11'0''

14'4''

17'7''

20'10''

lbs

4510

2530

1760

1320

1100

770

300.4

Ft

4'8''

8'

11'3''

14'6''

17'7''

20'10''

lbs

4290

2530

1694

1276

1056

770

Specifications:
Lifiting Capacity:
20,700 lbs.
Crane Weight:
470-630 lbs.
Brochure:
Crane Specifications:
---
350.2


Ft
4'9''
8'4''
12'
15'6''
19'
22'3''
lbs
4950
2860
1980
1540
1210
880
350.3

Ft

5'

8'7''

12'2''

15'6''

19'

22'3''

lbs

4774

2750

1914

1474

1210

880

350.4

Ft
5'3''
8'10''
12'5''
15'9''
19'
22'3''
lbs
4510
2640
1870
1430
1210
880
Specifications:
Lifiting Capacity:
24,350 lbs.
Crane Weight:
640-815 lbs.
Brochure:
Crane Specifications:
---
510.2C


Ft
4'7''
8'3''
11'9''
15'4''
18'7''
21'9''
lbs
7275
4232
2976
2270
1763
1278
510.3C

Ft

4'9''

8'5''

12'1''

15'4''

18'7''

21'9''

lbs

7275

4232

2976

2270

1763

1278

510.2L

Ft
5'6''
9'9''
14'4''
18'8''
22'1''
lbs
6393
3637
2469
1873
1543
510.3L

Ft
5'7''
10'2''
14'6''
18'8''
22'1''
lbs
6393
3637
2469
1873
1543
Specifications:
Lifiting Capacity:
35,300 lbs.
Crane Weight:
970-1100 lbs.
Brochure: